Lutein
Provides Important Eye-Supporting Nutrients, Lutein and Zeaxanthin*
Lutein Function
Supports Visual Function* and Macular Health*

Lutein Highlights
Lutein & Zeaxanthin Softgel
Clinically-Documented Eye Health and Support*
Concentrated In The Macula

Oxidative Stress Protection*

Must Come From the Diet Like a Vitamin
20 Milligrams Lutein Per Serving
Lutein as LuteinSorb® Delivers Fat-Soluble Free Lutein and Zeaxanthin in a Lipid Matrix for Greater Absorption.
What Does Lutein Do?
Jarrow Formulas® Lutein supports eye health and visual function with lutein and zeaxanthin.* Lutein and zeaxanthin are natural antioxidant carotenoids found in dark green, leafy vegetables, and are important components of the macular pigment in the eye, which is responsible for focus and color differentiation.*
Suggested Usage
Take 1 softgel per day with food or as directed by your qualified healthcare professional.
NOTE: Consult a healthcare professional before using this product if you are trying to conceive, pregnant, or lactating, under the age of 18, or have a medical condition; if adverse reactions occur, discontinue use.
Other Ingredients
Sunflower oil, softgel (bovine gelatin, glycerin, purified water), beeswax and natural mixed tocopherols (to maintain freshness).
No wheat, gluten, soybeans, dairy, egg, fish/shellfish, or peanuts/tree nuts.
NOTE: Color variation due to nature of material.
Lutemax® 2020 is a registered trademark of OmniActive Health Technologies, LTD.
Store in a cool, dry place.
*These statements have not been evaluated by the Food and Drug Administration. This product is not intended to diagnose, treat, cure or prevent any disease.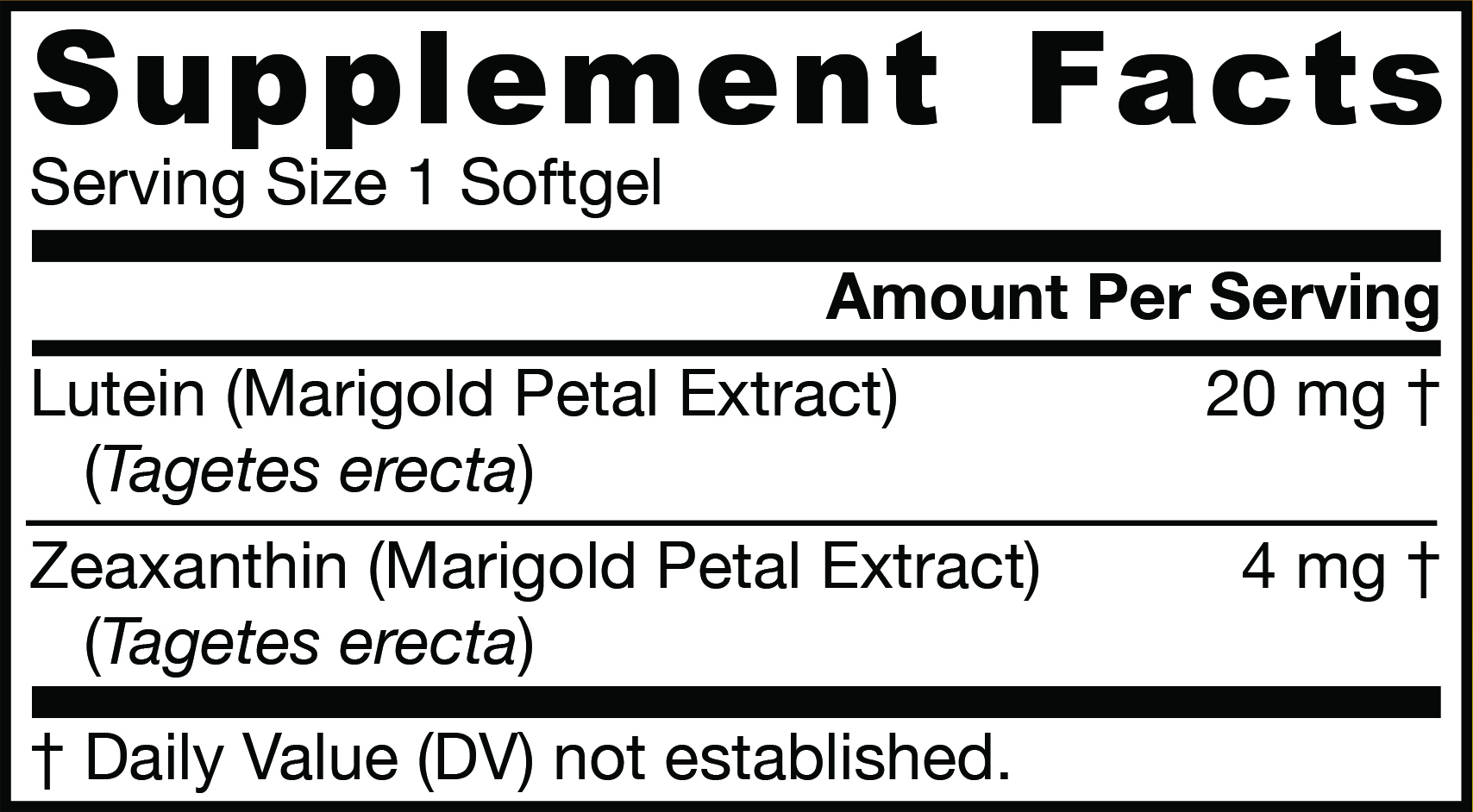 Product Information
60 Softgels
Code: LU60
Product #: 112025
Reformulation Date: 07/26/2016
Design Change Date: 06/10/2013
Last Update: 03/02/2022
Keep out of the reach of children.