Colostrum Prime Life®
Contains High Concentrations of Natural Immunoglobulins that Support Immune and Gastrointestinal Health*
Colostrum Prime Life® Function
30% Immunoglobulins
Supports Immune and Gastrointestinal Health*
No rBGH Used

Colostrum Prime Life® Highlights
USDA Certified Colostrum Capsules
Free From Antibiotics & Added Hormones
30% Immunoglobulins
Collected Within 16 Hours of Calving
Spray-Dried with Low Pressure and Temperatures

For retention of biological activity
What Does Colostrum Prime Life Do?
Jarrow Formulas® Colostrum Prime Life® formula contains a minimum of 30% immunoglobulins, proteins that support immune and gastrointestinal health.* Colostrum is collected within 16 hours of calving from American pasture-fed cows that have been raised without the use of growth hormone (rBGH), antibiotics or pesticides in their feed. Colostrum low-temperature processing, along with analytical testing, ensures that immunoglobulin fractions are not denatured. To further minimize the denaturation of immunoglobulins, Colostrum Prime Life® is delivered in delayed release capsules.
Suggested Usage
Take 1 capsule 1 to 2 times per day between meals or as directed by your qualified healthcare professional.
NOTE: Consult a healthcare professional before using this product if you are trying to conceive, pregnant, or lactating, under the age of 18, or have a medical condition; if adverse reactions occur, discontinue use.
Other Ingredients
Delayed release vegetarian capsule (hydroxypropylmethylcellulose, water), cellulose, magnesium stearate (vegetable source), silicon dioxide, medium chain triglycerides and sunflower lecithin.
Contains: Milk.
No wheat, gluten, soybeans, egg, fish/shellfish, or peanuts/tree nuts.
Made in the U.S.A. Worldwide Ingredients
Store in a cool, dry place.
*These statements have not been evaluated by the Food and Drug Administration. This product is not intended to diagnose, treat, cure or prevent any disease.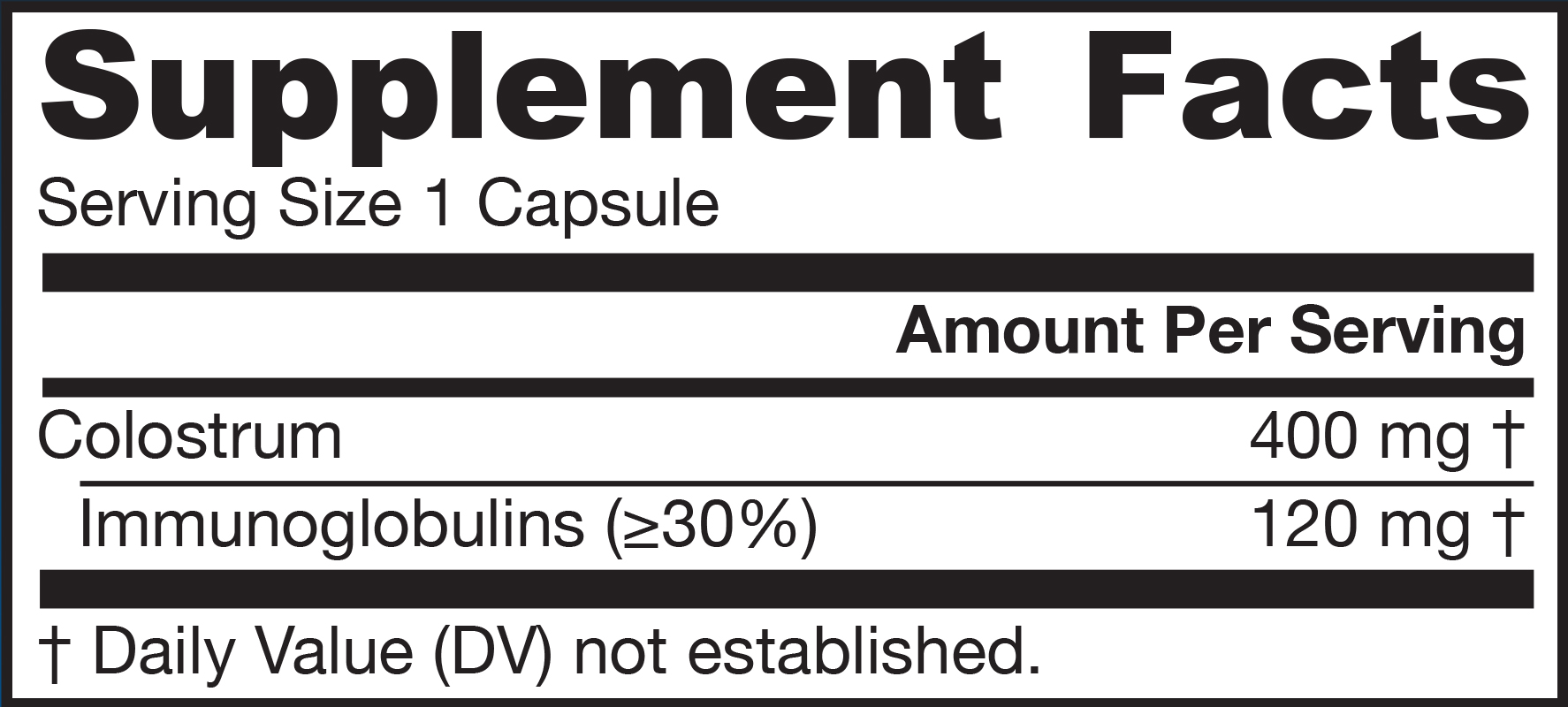 Product Information
120 Veggie Caps
400 mg Per Serving
Code: COL120
Product #: 121010
Reformulation Date:
Design Change Date: 04/30/2013
Last Update: 12/28/2021
Keep out of the reach of children.