Bile Acid Factors®
A Mixture of Highly Concentrated Bile Acids, Mostly in the Conjugated Form (Also Called Bile Salts)
Bile Acid Factors® Function
Supports Digestion and Absorption of Fats* & Fat-Soluble Nutrients*

Bile Acid Factors® Highlights
High Potency Bile Acid Formulation
95% Conjugated Bile Acids
Similar to Form Secreted by the Body
Scientifically Documented to Promote Fat-Soluble Nutrient Absorption*
What Does Bile Acid Factors Do?
Bile Acid Factors® consists of a mixture of highly concentrated bile acids, mostly in the conjugated form (also called bile salts), from U.S. and/or New Zealand bovine bile.
• Bile components in Bile Acid Factors® are important for fat digestion and absorption.*
• Inadequate bile salts can result in loose stools and reduced absorption of fat and fat-soluble nutrients.* In the small intestine, bile salts are required to emulsify fats for digestion and absorption.*
Suggested Usage
Take 1 to 4 capsules with a fat-containing meal or as directed by your qualified healthcare professional.
NOTE: Consult a healthcare professional before using this product if you are trying to conceive, pregnant, or lactating, under the age of 18, or have a medical condition; if adverse reactions occur, discontinue use.
Other Ingredients
Microcrystalline cellulose, capsule (bovine gelatin), natural vanilla flavor, magnesium stearate (vegetable source) and silicon dioxide.
No wheat, gluten, soybeans, dairy, egg, fish/shellfish, or peanuts/tree nuts.
Store in a cool, dry place.
*These statements have not been evaluated by the Food and Drug Administration. This product is not intended to diagnose, treat, cure or prevent any disease.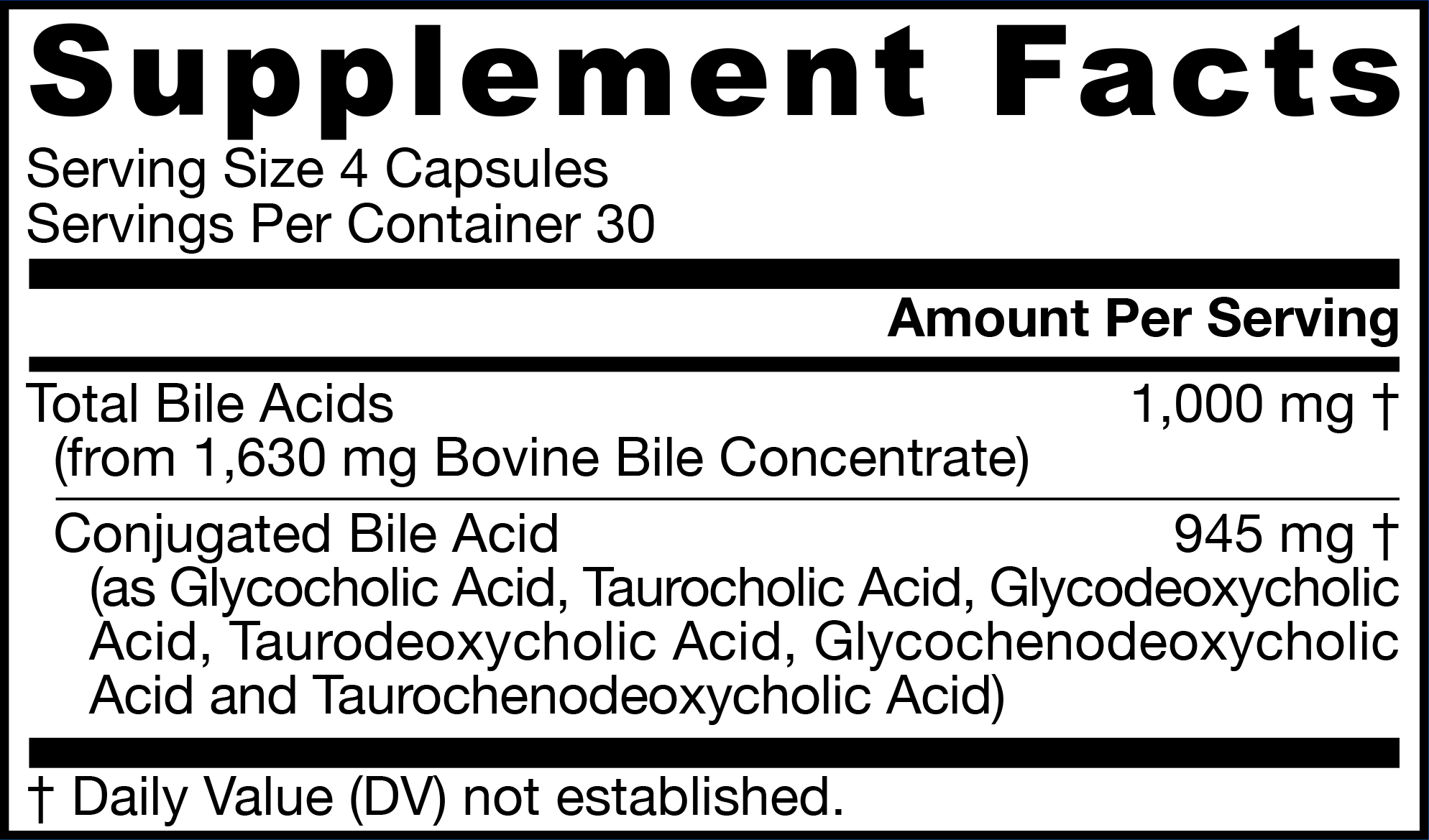 Product Information
120 Capsules
Code: BILE
Product #: 124002
Reformulation Date: 11/20/2019
Design Change Date: 06/24/2013
Last Update: 01/06/2022
Keep out of the reach of children.