CarotenAll®
Provides Total Amount of the Major Carotenoids (Alpha- & Beta-Carotene, Lutein, Zeaxanthin And Lycopene) of 5 Servings of Fruits and Vegetables*
CarotenAll® Function
For Cardiovascular* and Vision Health*

CarotenAll® Highlights
7 Carotenoid Formulation Softgel
Sustainable, non-GMO project verified Lyc-O-Mato® Tomatoes
Naturally occurring lycopene, phytoene and phytofluene
1 Softgel = Amount in 5 Servings Veggies
Alpha/Beta Carotene From Palm Fruit

In ratios identical to carrot

Carotenoid formulation softgel to support specific indications including cardiovascular health and vision health*
What Does CarotenAll Do?
CarotenAll® is a mixed carotenoids complex providing a total amount of the major carotenoids (Alpha- & Beta-Carotene, Lutein, Zeaxanthin and Lycopene) in one softgel of 5 servings of fruits and vegetables. CarotenAll®, as part of a healthy diet, supports cardiovascular and vision health with:
Carotenoids: Alpha- and beta-carotene extracted from palm fruit (EVTene™)
Lycopene: An antioxidant carotenoid extracted from non-GMO tomatoes
Lutein and Zeaxanthin: Antioxidant carotenoids found in dark green, leafy vegetables*
Astaxanthin: An antioxidant carotenoid found in seafood and algae*
Suggested Usage
Take 1 softgel 1 to 2 times per day or as directed by your qualified healthcare professional.
NOTE: Consult a healthcare professional before using this product if you are trying to conceive, pregnant, or lactating, under the age of 18, or have a medical condition; if adverse reactions occur, discontinue use.
Other Ingredients
Sunflower oil, softgel (bovine gelatin, glycerin, water, organic caramel [for color], carob extract [for color]) and palm olein.
No wheat, gluten, soybeans, dairy, egg, fish/shellfish, or peanuts/tree nuts.
Lyc-O-Mato® is a registered trademark of LycoRed Natural Products Ltd., and is protected by U.S. Patent # 5,837,311.
EVTene™ is a trademark of ExcelVite Inc.
Store in a cool, dry place.
*These statements have not been evaluated by the Food and Drug Administration. This product is not intended to diagnose, treat, cure or prevent any disease.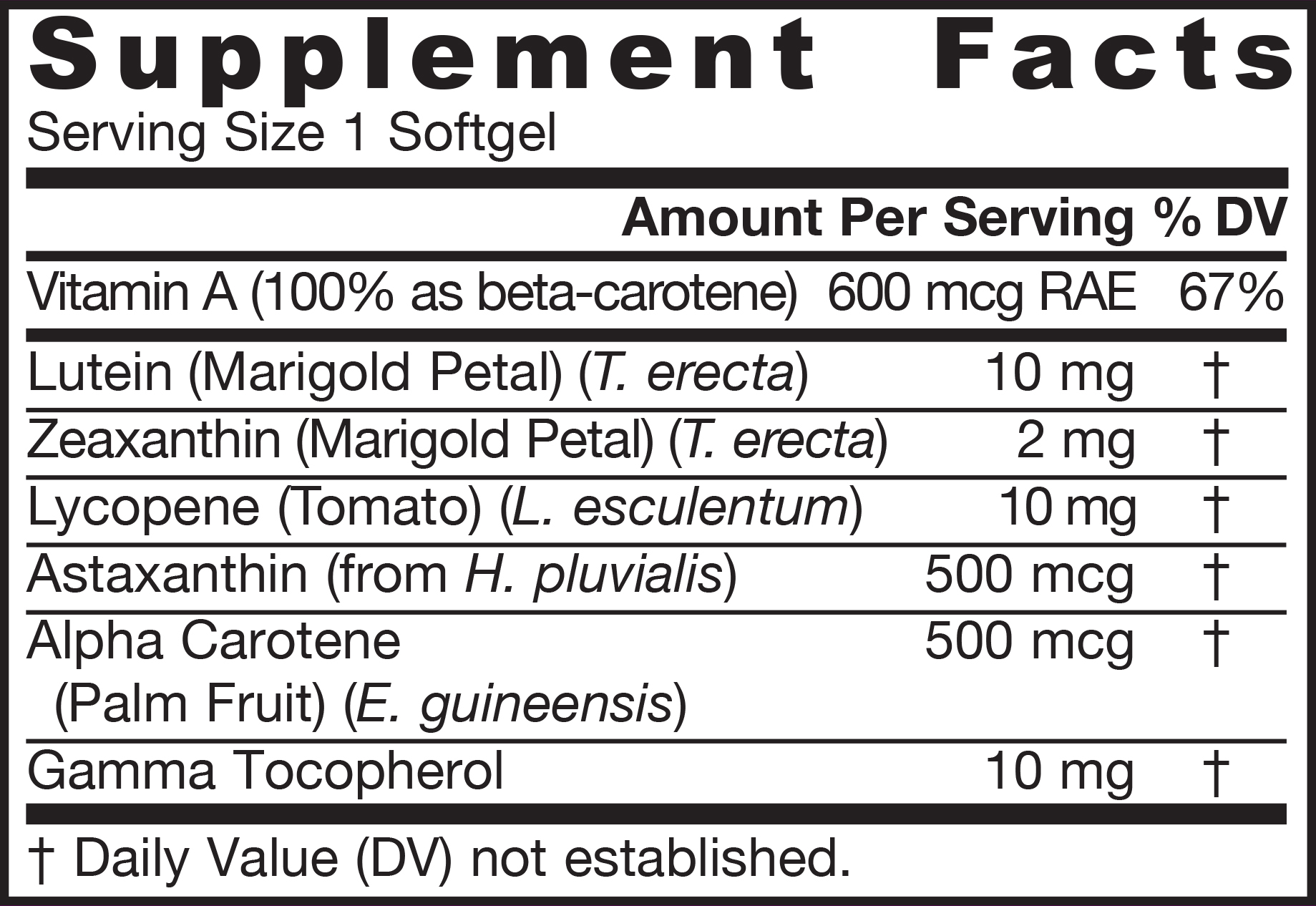 Product Information
60 Softgels
Code: CAROT
Product #: 112018
Reformulation Date: 11/29/2016
Design Change Date: 03/26/2018
Last Update: 12/28/2021
Keep out of the reach of children.