Famil-E®
Contains All 8 Members of the Vitamin E Family
Famil-E® Function
Provides Antioxidant Cardiovascular Support*

Famil-E® Highlights
Rich in Gamma Tocopherol and Tocotrienols
Contains 4 Forms of Tocopherol and 4 of Tocotrienol That Are Typically Found Concentrated in Plant Seeds and Vegetable Oils
What Does Famil-E Do?
FamilE® contains all 8 members of the vitamin E family. These "Toco's"—4 forms of tocopherol and 4 of tocotrienol—are typically found concentrated in plant seeds and vegetable oils. FamilE® is specifically rich in gamma tocopherol and tocotrienols (EVNol SupraBio™).* Excess d-alpha tocopherol depletes gamma tocopherol. FamilE® provides a tocotrienol complex that supports cardiovascular function.*
Suggested Usage
Take 1 softgel per day with food or as directed by your qualified healthcare professional.
NOTE: Consult a healthcare professional before using this product if you are trying to conceive, pregnant, or lactating, under the age of 18, or have a medical condition; if adverse reactions occur, discontinue use.
Other Ingredients
Softgel (bovine gelatin, glycerin, water, annatto [for color]), soybean oil, palm oil and polyoxyl castor oil.
No wheat, gluten, dairy, egg, fish/shellfish, or peanuts/tree nuts.
EVNol SupraBio™ is a trademark of ExcelVite, Inc. and is protected by U.S. Patent # 6,596,306.
Store in a cool, dry place.
*These statements have not been evaluated by the Food and Drug Administration. This product is not intended to diagnose, treat, cure or prevent any disease.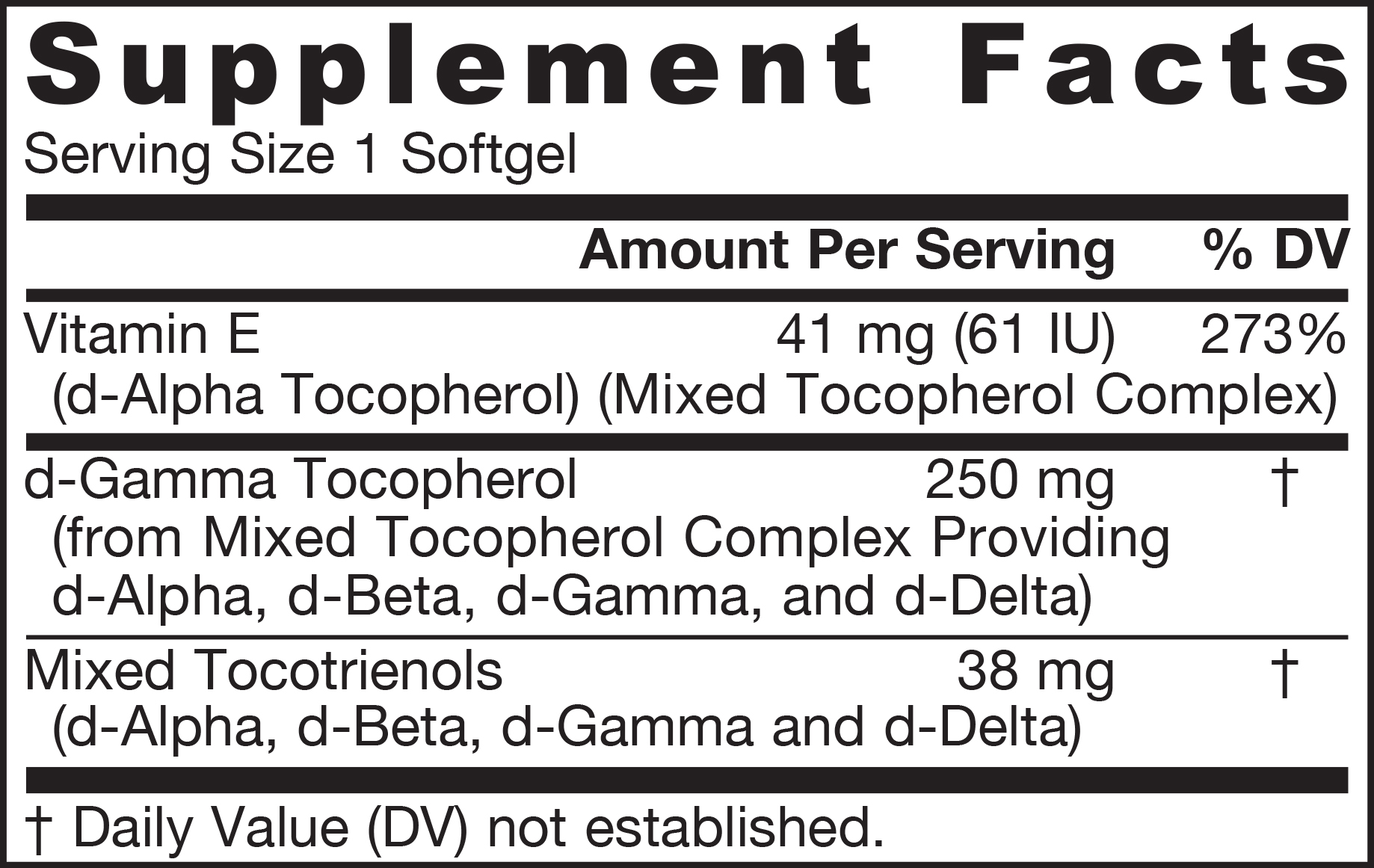 Product Information
60 Softgels
Code: EFAM
Product #: 112028
Reformulation Date: 10/17/2012
Design Change Date: 04/17/2018
Last Update: 12/28/2021
Keep out of the reach of children.