Ginkgo Biloba 50:1
Has a Wide Range of Beneficial Effects, Including Circulatory and Antioxidant Support*
Ginkgo Biloba 50:1 Function
Supports Antioxidant Status* and Circulation*

What Does Ginkgo Biloba 50:1 Do?
Jarrow Formulas® Ginkgo Biloba is a 50:1 leaf extract standardized to 24% ginkgoflavonglycosides (or heterosides) and a minimum of 6% terpene lactones. Ginkgo Biloba has a wide range of beneficial effects, including circulatory and antioxidant support.*
Suggested Usage
Take 2 capsules per day with food or as directed by your qualified healthcare professional.
NOTE: If you have a medical condition (especially bleeding disorders), are facing surgery, pregnant, lactating, trying to conceive, under the age of 18, or taking medications (especially blood thinners), consult your healthcare professional before using this product.
Other Ingredients
Cellulose, magnesium stearate (vegetable source) and silicon dioxide. Capsule consists of hydroxypropylmethylcellulose.
No wheat, gluten, soybeans, dairy, egg, fish/shellfish, or peanuts/tree nuts.
Suitable for vegetarians/vegans.
Store in a cool, dry place.

*These statements have not been evaluated by the Food and Drug Administration. This product is not intended to diagnose, treat, cure or prevent any disease.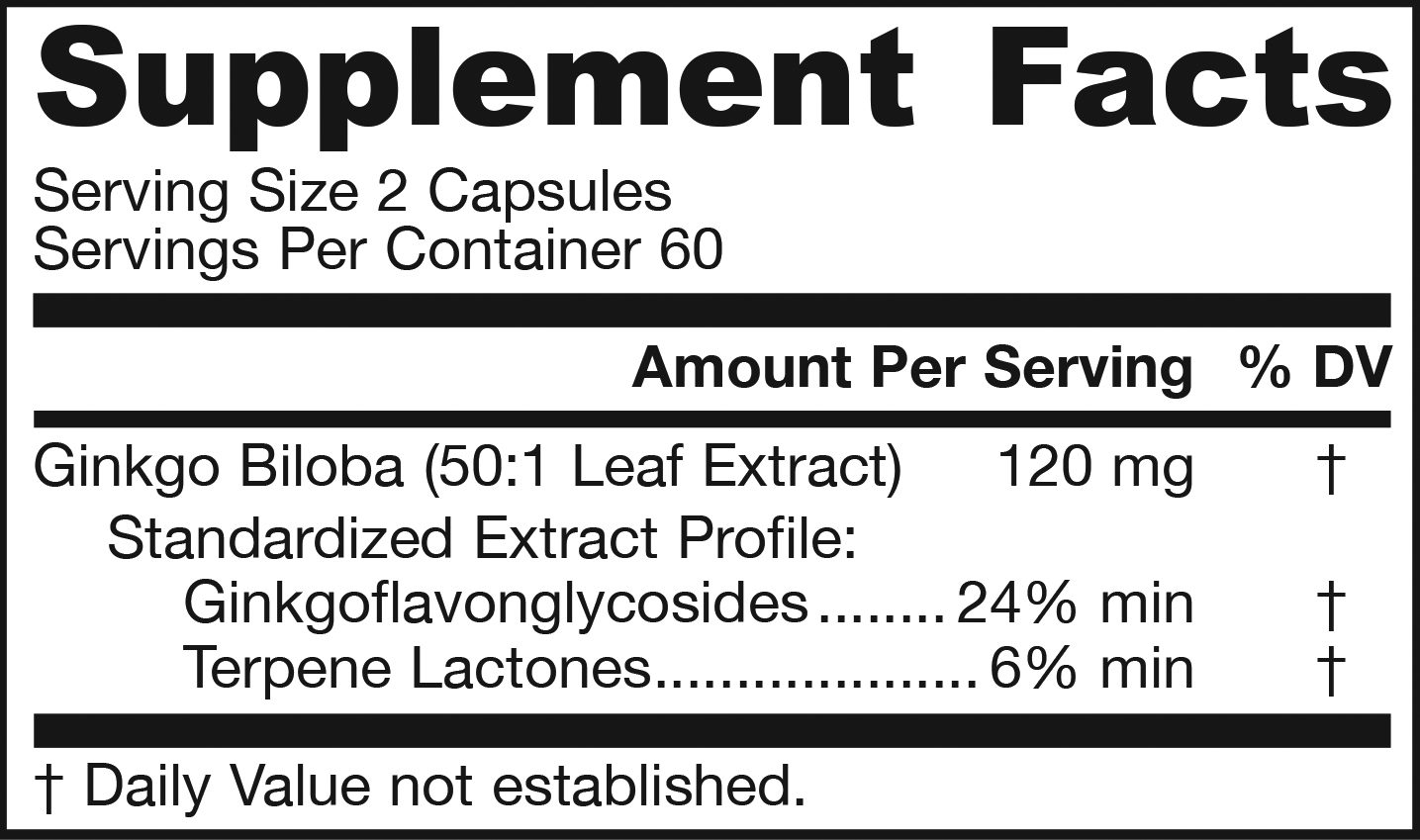 Product Information
120 Veggie Caps
Code: SCKK
Product #: 108005
Reformulation Date:
Design Change Date: 04/18/2018
Last Update: 05/25/2022
Keep out of the reach of children.