Selenium Synergy®
Selenium Synergy® Function
Promotes Antioxidant Protection Against Free Radicals*
Supports Immune Health*

Selenium Synergy® Highlights
Jarrow Formulas® Selenium Synergy® provides Selenext® Methylselenocysteine, the Form of Selenium Essential for the Activity of the Endogenous Antioxidant Enzyme Glutathione Peroxidase*
Promotes Antioxidant Protection Against Free Radicals*
What Does Selenium Synergy Do?
Selenium Synergy® contains a highly effective form of selenium, methylselenocysteine, in a synergistic formulation with Glucoraphanin, vitamin B2 (riboflavin) and vitamin E, which promotes antioxidant protection against free radicals and supports immune health.*
Suggested Usage
Take 1 capsule per day or 1 every other day, or as directed by your qualified healthcare professional.
NOTE: The total amount of selenium supplemented from all sources should not exceed the tolerable upper intake level (UL) for selenium of 400 mcg/day. Consult a healthcare professional before using this product if you are trying to conceive, pregnant, or lactating, under the age of 18, or have a medical condition; if adverse reactions occur, discontinue use.
Other Ingredients
Cellulose, capsule (bovine gelatin), calcium phosphate, maltodextrin, magnesium stearate (vegetable source) and silicon dioxide.
No wheat, gluten, soybeans, dairy, egg, fish/shellfish, or peanuts/tree nuts.
Store in a cool, dry place.
*These statements have not been evaluated by the Food and Drug Administration. This product is not intended to diagnose, treat, cure or prevent any disease.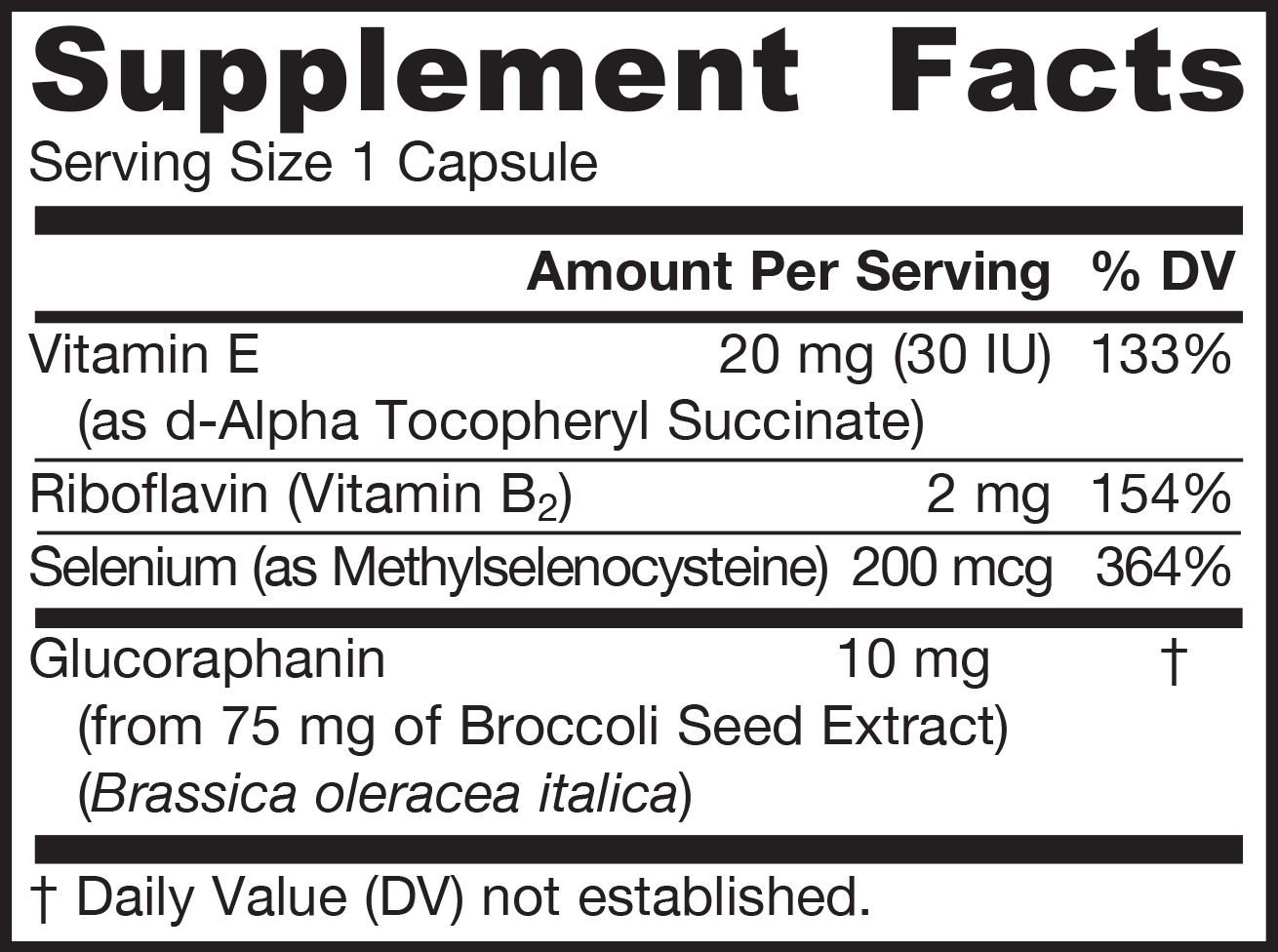 Product Information
60 Capsules
Code: SS
Product #: 113006
Reformulation Date:
Design Change Date: 05/24/2018
Last Update: 12/29/2021
Keep out of the reach of children.