Yum-Yum D3 Liquid®
Yum-Yum D3 Liquid® Function
Promotes Healthy Bones, Teeth, Brain and Immune System*

Yum-Yum D3 Liquid® Highlights
More than just for bone health*
400 Servings Per Bottle

Easy to get higher potencies

Vitamin D3: Preferred Form of D
What Does Yum-Yum D3 Liquid Do?
Jarrow Formulas® Yum-Yum D3® Liquid delivers 2.5 mcg (100 IU) of vitamin D3 (cholecalciferol) per 2 drops. Vitamin D3 is essential for children (and adults) in promoting healthy bones, teeth, brain and immune system.*
Suggested Usage
For children under 4, take 2-4 drops daily with a meal. For children 4 and older, take 8 drops daily with a meal or as directed by your qualified healthcare professional.
NOTE
Serving Size = 2 Drop ONLY


(1 Dropper = Approx. 30 Drops)
WARNING: Infants should not consume more than 10 mcg (400 IU [international units]) of vitamin D per day. Limit intake of this product to 8 drops daily in infants.
Other Ingredients
Certified organic olive oil.
No wheat, gluten, soybeans, dairy, egg, fish/shellfish, or peanuts/tree nuts.
Certified Organic by Stellar Certification Services.
*These statements have not been evaluated by the Food and Drug Administration. This product is not intended to diagnose, treat, cure or prevent any disease.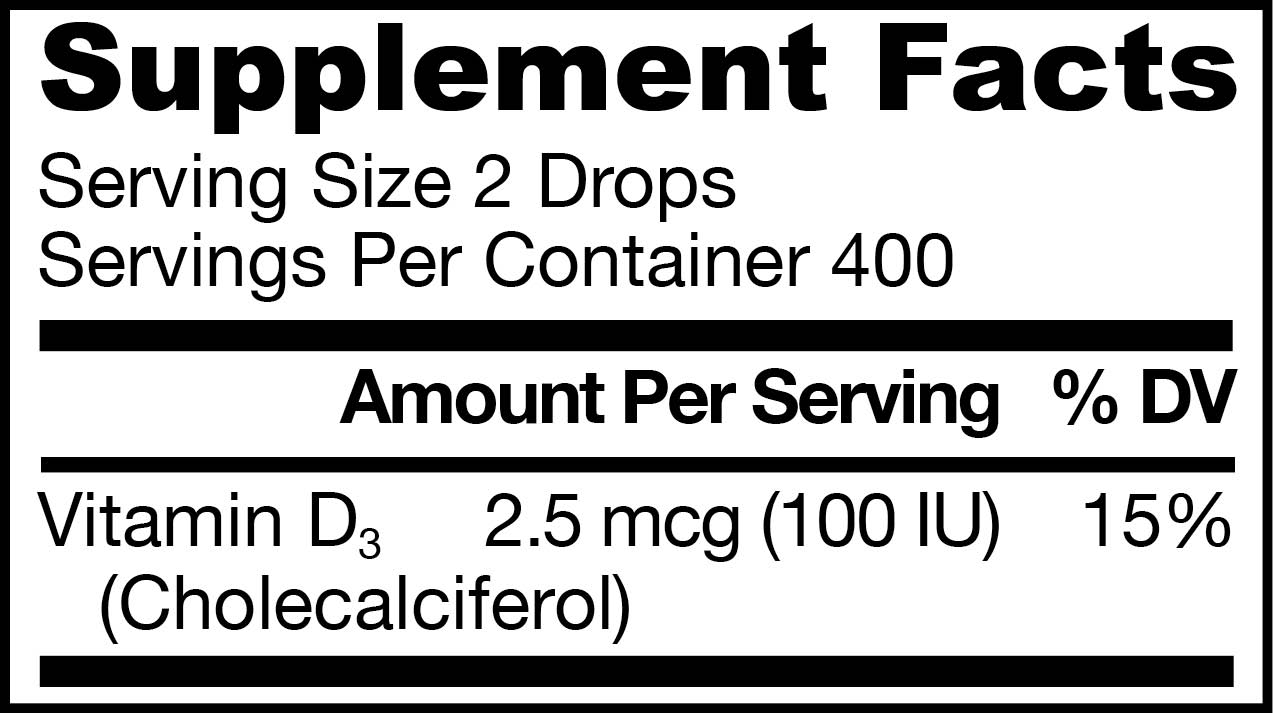 Product Information
1 fl. oz (29.6 ml) Liquid
100 IU (2.5 mcg) Per Serving
Code: YUMDOIL
Product #: 132003
Reformulation Date: 03/12/2018
Design Change Date: 03/12/2018
Last Update: 04/21/2022