L-Tryptophan Peptide
An Essential Amino Acid That Is Metabolized to Serotonin (5-Hydroxytryptamine) and Melatonin*
L-Tryptophan Peptide Function
For Relaxation,* Positive Mood* & Sleep*

L-Tryptophan Peptide Highlights
What Does L-Tryptophan Peptide Do?
Jarrow Formulas® L-Tryptophan Peptide uses PepForm® technology.
L-tryptophan is an essential amino acid and must be obtained from food or supplements. L-tryptophan is metabolized to serotonin (5-hydroxytryptamine) and melatonin, which is important for relaxation, restful sleep and positive mood.*
Suggested Usage
Take 2 tablets on an empty stomach 30 minutes before sleep with water or fruit juice or as directed by your qualified healthcare professional.
WARNING: DO NOT drive or operate machinery immediately following use of this product; DO NOT take this product if you are on any medications (especially antidepressants [e.g., SSRIs (selective serotonin reuptake inhibitors)]). If you are pregnant, breastfeeding, trying to conceive, under the age of 18, or have a medical condition, consult your qualified healthcare professional before using this product.
Other Ingredients
Calcium phosphate, cellulose, stearic acid (vegetable source), silicon dioxide, magnesium stearate (vegetable source) and a food-grade coating.
Contains: Milk.
No wheat, gluten, soybeans, egg, fish/shellfish, or peanuts/tree nuts.
PepForm® is a trademark of Glanbia plc.
Suitable for vegetarians.
Store in a cool, dry place.
*These statements have not been evaluated by the Food and Drug Administration. This product is not intended to diagnose, treat, cure or prevent any disease.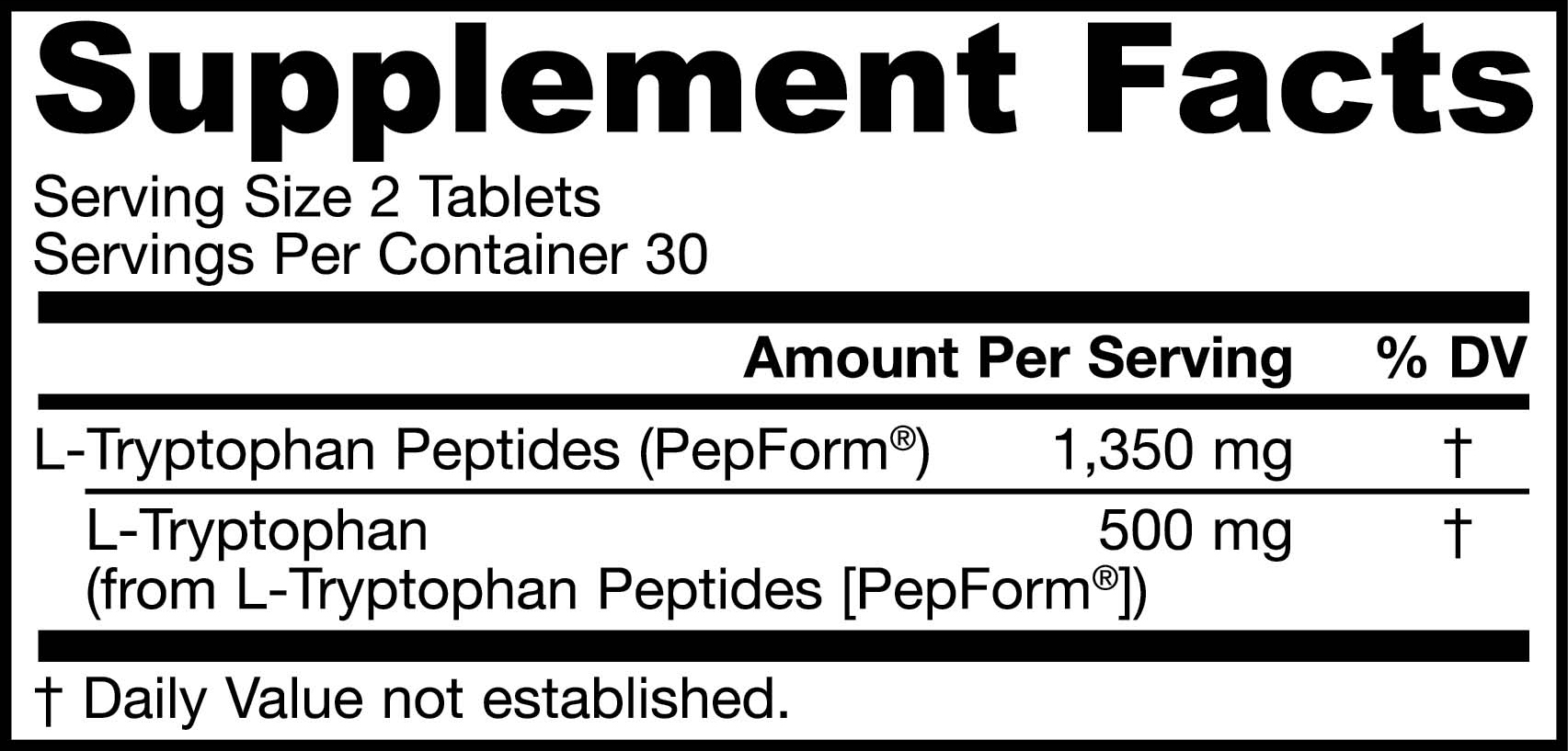 Product Information
60 Tablets
Code: TRYPEP
Product #: 115067
Reformulation Date: 05/20/2013
Design Change Date: 05/09/2014
Last Update: 04/20/2022
Keep out of the reach of children.