JarroSil&reg Capsules
Silicon Supplement in the Form of Stabilized Silicic Acid
JarroSil&reg Capsules Function
Beautifies Hair, Skin, and Nails* and Strengthens Bones, and Collagen*

JarroSil&reg Capsules Highlights
Convenient Capsules
JarroSil is a Stabilized, Liquid Silicic Acid Formula that Converts to Orthosilicic Acid When Mixed with Water or Other Beverages
Orthosilicic Acid is the Preferred Form of Silicon for Utilization by the Body and Is Much Easier to Assimilate Than Colloidal or Horsetail Silicas*
What Does JarroSil&reg Capsules Do?
JarroSil® is a patented Activated Silicon® formula supplying stabilized molecular clusters of silicic acid. Stabilized silicic acid is converted to ortho- and disilicic acids upon dissolution in the stomach and rapidly absorbed as bioavailable silicon.*
JarroSil® Activated Silicon® is an essential partner of calcium for bones, glucosamine for joints, and antioxidants for healthier arteries and cardiovascular function.* Silicon also has critical roles in the formation of collagen and keratin in support and repair of the hair, skin and nails.*
Suggested Usage
Take 1 capsule per day, preferably with a meal, or as directed by your qualified healthcare professional.
NOTE: Do not take this product if you are pregnant or lactating.
Other Ingredients
Hydrolyzed bovine collagen, MSM (methylsulfonylmethane) and cellulose. Capsule consists of hydroxypropylmethylcellulose.
No wheat, gluten, soybeans, dairy, egg, fish/shellfish, or peanuts/tree nuts.
Store in a cool, dry place.
JarroSil® is protected under U.S. Patent # 8,563,072 B2.
*These statements have not been evaluated by the Food and Drug Administration. This product is not intended to diagnose, treat, cure or prevent any disease.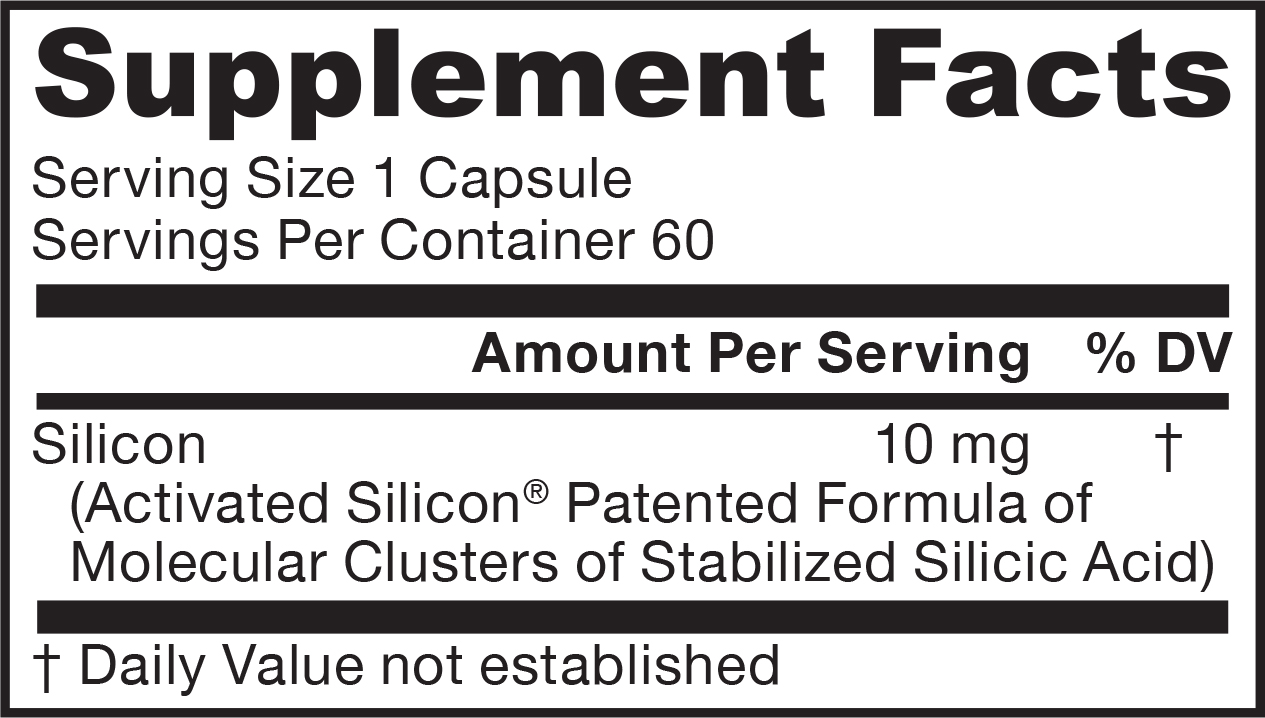 Product Information
60 Veggie Caps
10 mg Per Serving
Code: JSILCAP
Product #: 113018
Reformulation Date: 05/26/2015
Design Change Date: 07/09/2013
Last Update: 05/26/2022
Keep out of the reach of children.