MK-7
Superior Vitamin K Product for Building Strong Bones*
MK-7 Function
Supports Bone and Cardiovascular Health*

MK-7 Highlights
Vitamin K2 as Menaquinone-7 Softgels
Superior Form of Vitamin K

Longer Half-Life Than K1 (Days vs. Hours)
Higher Activity Than K1 (6X in vitro)
Much Better Absorbed Than K1 from Spinach

90 mcg Per Serving
Supports Blood Clotting & Coagulation*
What Does MK-7 Do?
Jarrow Formulas® MK-7 is naturally made via fermentation by Bacillus subtilis subsp. natto and is much better absorbed than K1 from spinach.* MK-7 is a longer-acting form of vitamin K vs. K1 and MK-4, and better supports carboxylation of specific proteins needed to build bones and support cardiovascular health.*
Suggested Usage
Take 1 softgel per day or as directed by your qualified healthcare professional.
NOTE: Consult a healthcare professional before using this product if you are taking medications (especially anticoagulants [e.g. warfarin/Coumadin]), trying to conceive, pregnant, or lactating, under the age of 18, or have a medical condition; if adverse reactions occur, discontinue use.
Other Ingredients
Non-GMO medium chain triglycerides, softgel (bovine gelatin, glycerin, purified water, organic caramel [as a light barrier]) and olive oil.
No wheat, gluten, soybeans, dairy, egg, fish/shellfish, or peanuts/tree nuts.
Store in a cool, dry place.
*These statements have not been evaluated by the Food and Drug Administration. This product is not intended to diagnose, treat, cure or prevent any disease.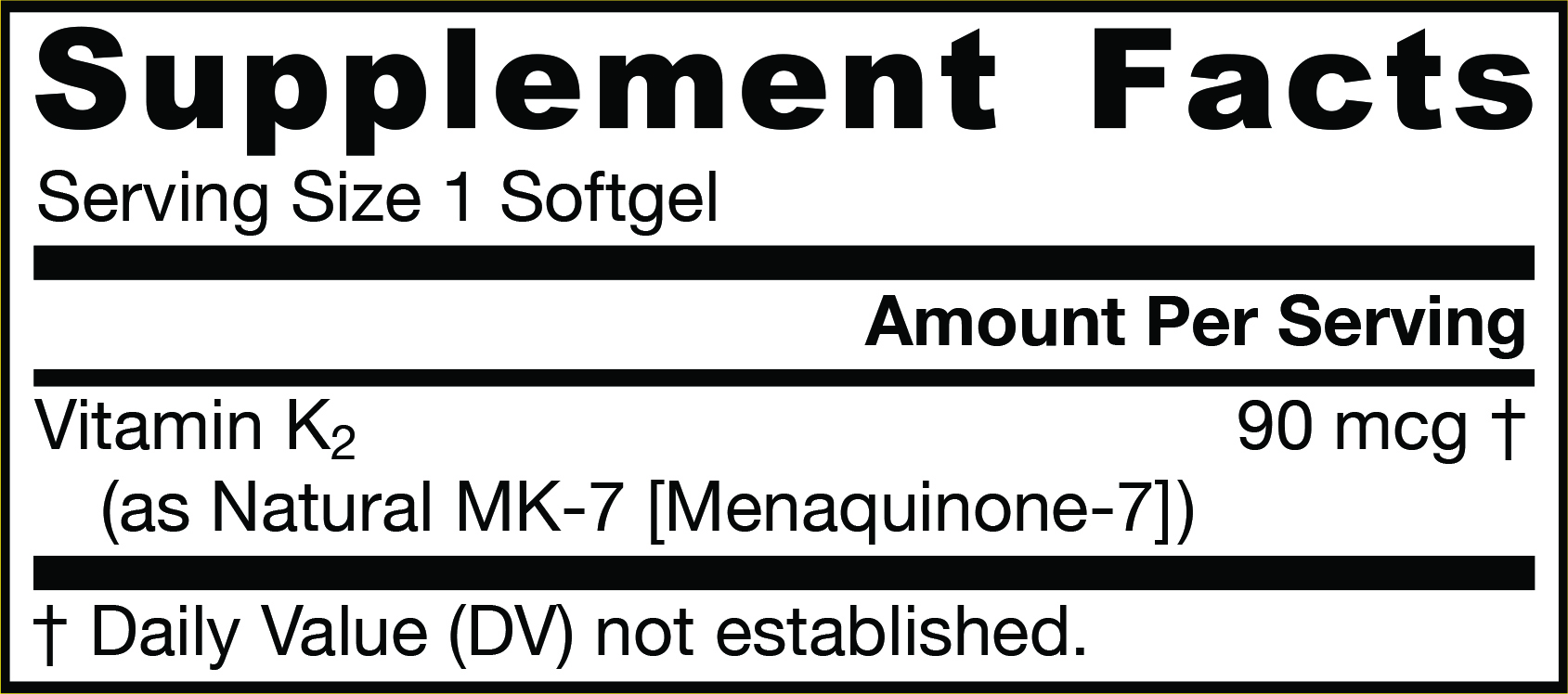 Product Information
120 Softgels
90 mcg Per Serving
Code: MK7120
Product #: 130007
Reformulation Date: 06/09/2016
Design Change Date: 01/30/2015
Last Update: 12/28/2021
Keep out of the reach of children.