K-Right®
Contains 3 Forms of Vitamin K, Including MK-7, Plus Vitamin D3 to Provide Bone and Cardiovascular Support*
K-Right® Function
Supports Bone & Cardiovascular Health*

K-Right® Highlights
Contains 3 Types of Vitamin K*
Contains MK-7 (Menaquinone-7), A Bioactive Form of Vitamin K2 from Natto and is Much Better Absorbed Than K1 from Spinach*
Contains Vitamin D3 to Additionally Support Bone Health*
What Does K-Right Do?
Jarrow Formulas® K-Right® is a combination of three forms of Vitamin K: MK-7, MK-4 and K1, plus vitamin D3 to support bone and cardiovascular health.* Vitamin K functions in the carboxylation of osteocalcin, which binds calcium in bones.* Vitamin D3 functions in the production of osteocalcin.*Jarrow Formulas® MK-7 is a product of natural fermentation using Bacillus subtilis subsp. natto.
Suggested Usage
Take 1 softgel per day or as directed by your qualified healthcare professional.
NOTE: Consult a healthcare professional before using this product if you are taking medications (especially anticoagulants [e.g. warfarin/Coumadin]), trying to conceive, pregnant, or lactating, under the age of 18, or have a medical condition; if adverse reactions occur, discontinue use.
Other Ingredients
Extra virgin olive oil; softgel (bovine gelatin, purified water, glycerin, organic caramel [for color]).
No wheat, gluten, soybeans, dairy, egg, fish/shellfish, or peanuts/tree nuts.
Store in a cool, dry place.
*These statements have not been evaluated by the Food and Drug Administration. This product is not intended to diagnose, treat, cure or prevent any disease.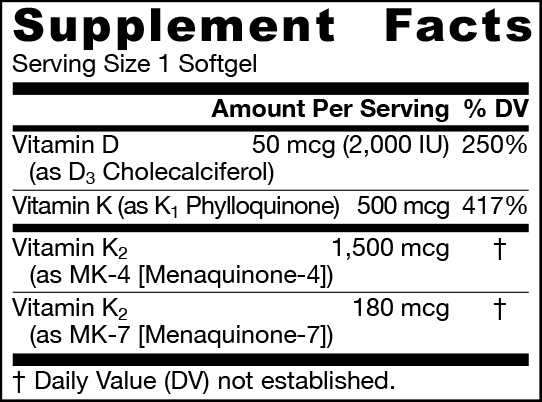 Product Information
60 Softgels
Code: KR
Product #: 130009
Reformulation Date: 06/13/2016
Design Change Date: 06/13/2016
Last Update: 01/04/2022
Keep out of the reach of children.