Collagen
Collagen Function
Supports Collagen Production* & Skin Health*

Collagen Highlights
Supports Collagen Production & Skin Health*
Low Molecular Weight Collagen Peptides (Fish)
Sourced from a Sustainable and Traceable Supply Chain
An Important Part of the Jarrow Skin Health System®
What Does Collagen Do?
Jarrow Formulas® Collagen contains hydrolyzed, lower molecular weight (LMW) Type I fish collagen peptides. These LMW fish collagen peptides have been shown to support skin elasticity, firmness, and hydration status with supplementation for 8 weeks in healthy, mature (55+ years old) women.* Sourced from a sustainable and traceable supply chain.
Suggested Usage
Take 6 tablets, totaling 5 grams per day, 30-60 minutes prior to a meal or on an empty stomach, or as directed by your qualified healthcare professional.
NOTE: If you have a medical condition, are pregnant, lactating, trying to conceive, under the age of 18, or taking medications, consult your healthcare professional before using this product.
Other Ingredients
Cellulose, stearic acid (vegetable source), magnesium stearate (vegetable source) and silicon dioxide.
Contains: Fish (Catfish, Tilapia).
No wheat, gluten, soybeans, dairy, egg, shellfish, or peanuts/tree nuts.
Store in a cool, dry place.
*These statements have not been evaluated by the Food and Drug Administration. This product is not intended to diagnose, treat, cure or prevent any disease.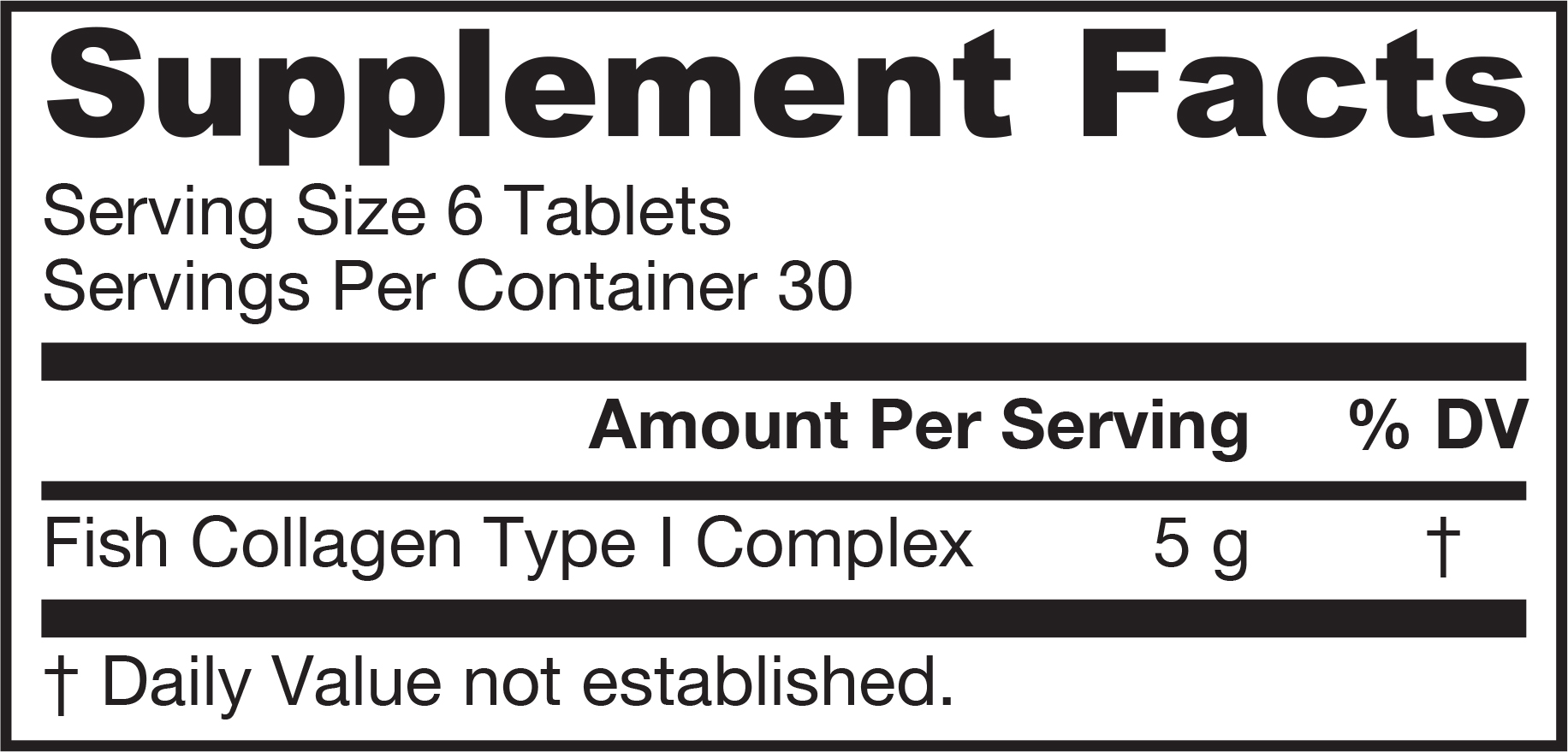 Product Information
180 Tablets
Code: COLTAB
Product #: 129068
Reformulation Date: 01/12/2017
Design Change Date: 01/12/2017
Last Update: 04/20/2022
Keep out of the reach of children.