Hyaluronic Acid
Bioavailable to Support Skin Health*
Hyaluronic Acid Function
Supports Skin Health*

Hyaluronic Acid Highlights
Fermented, HA

120 mg Per Serving
Pure Hyaluronic Acid—Not Collagen
An Important Part of the Jarrow Skin Health System®
What Does Hyaluronic Acid Do?
Hyaluronic Acid is present in the body as a natural component of joint cartilage, synovial joint fluid and skin connective tissue.*
Jarrow Formulas® Hyaluronic Acid is derived from biological fermentation. It is bioavailable and supports skin health.*
For best results, use with Jarrow Formulas® JarroSil®, the biologically Activated Silicon®.
Suggested Usage
Take 1 tablet 1 to 2 times per day or as directed by your qualified healthcare professional.
NOTE: If you have a medical condition or taking medications, consult your healthcare professional before using this product.
Other Ingredients
Cellulose, sodium starch glycolate, magnesium stearate (vegetable source) and a food-grade coating (modified cellulose, titanium dioxide, glycerin and spirulina extract).
No wheat, gluten, soybeans, dairy, egg, fish/shellfish, or peanuts/tree nuts.
Suitable for vegetarians/vegans.
Store in a cool, dry place.
*These statements have not been evaluated by the Food and Drug Administration. This product is not intended to diagnose, treat, cure or prevent any disease.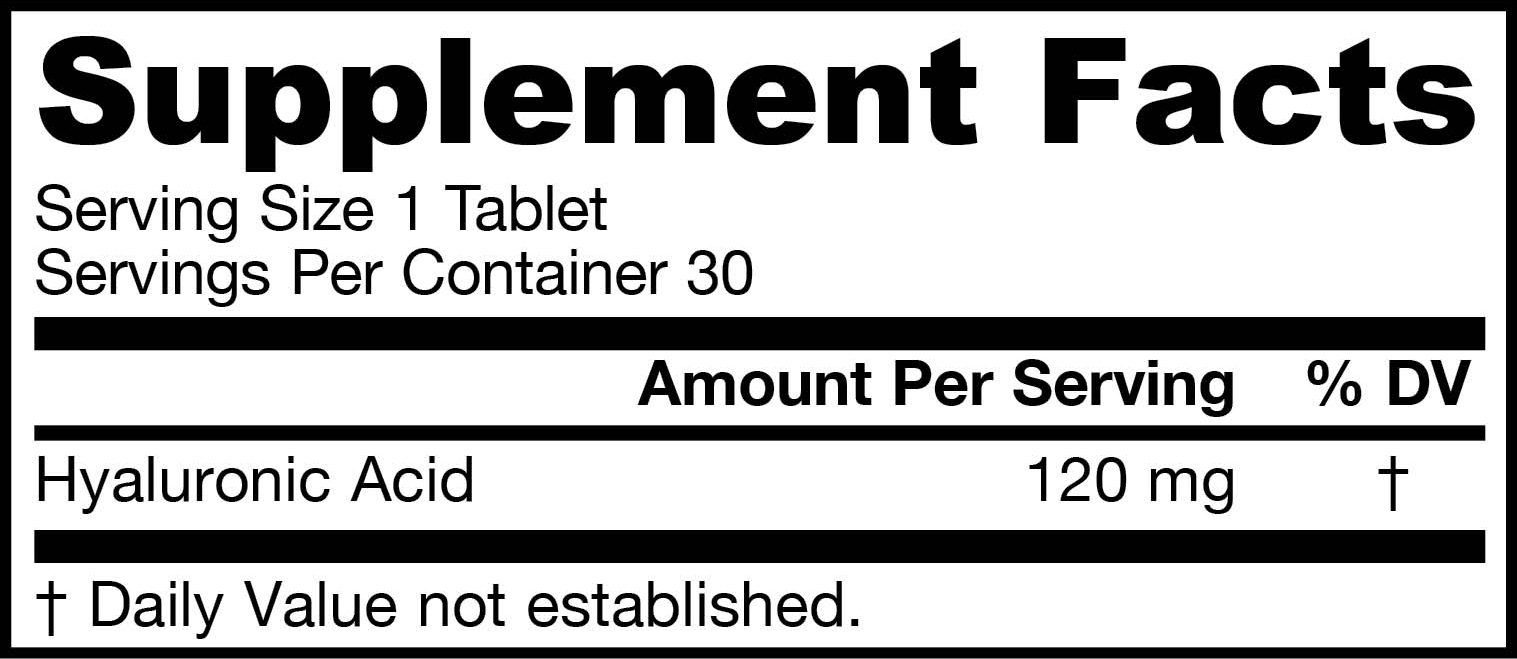 Product Information
30 Tablets
120 mg Per Serving
Code: HYAL30
Product #: 129076
Reformulation Date:
Design Change Date:
Last Update: 05/25/2022
Keep out of the reach of children.