MaculaPF™
A Combination of Three Key Antioxidant Carotenoids to Support the Eyes' Maculae*
MaculaPF™ Function
Supports Eye Health*

What Does MaculaPF Do?
MaculaPF™ (Protective Factors) Blue Light Protection is a synergistic combination of three key antioxidant carotenoids to support the eyes' maculae in blue light from all types of screens, LED lighting, and sunlight.* The macula is responsible for focus and color.
Suggested Usage
Take 1 softgel per day, preferably with a fat-containing meal, or as directed by your qualified healthcare professional.
NOTE: Consult a healthcare professional before using this product if you are trying to conceive, pregnant, or lactating, under the age of 18, or have a medical condition; if adverse reactions occur, discontinue use.
Other Ingredients
Sunflower lecithin, softgel (bovine gelatin, purified water, glycerin, caramel [as a light barrier]), avocado oil and sunflower oil.
No wheat, gluten, soybeans, dairy, egg, fish/shellfish, or peanuts/tree nuts.
Store in a cool, dry place.
AstaPure® is a registered trademark of Algatechnologies Ltd.
Lutemax® 2020 is a registered trademark of OmniActive Health Technologies, LTD.
OmniXan-RS® is a registered trademark of OmniActive Health Technologies, LTD.
*These statements have not been evaluated by the Food and Drug Administration. This product is not intended to diagnose, treat, cure or prevent any disease.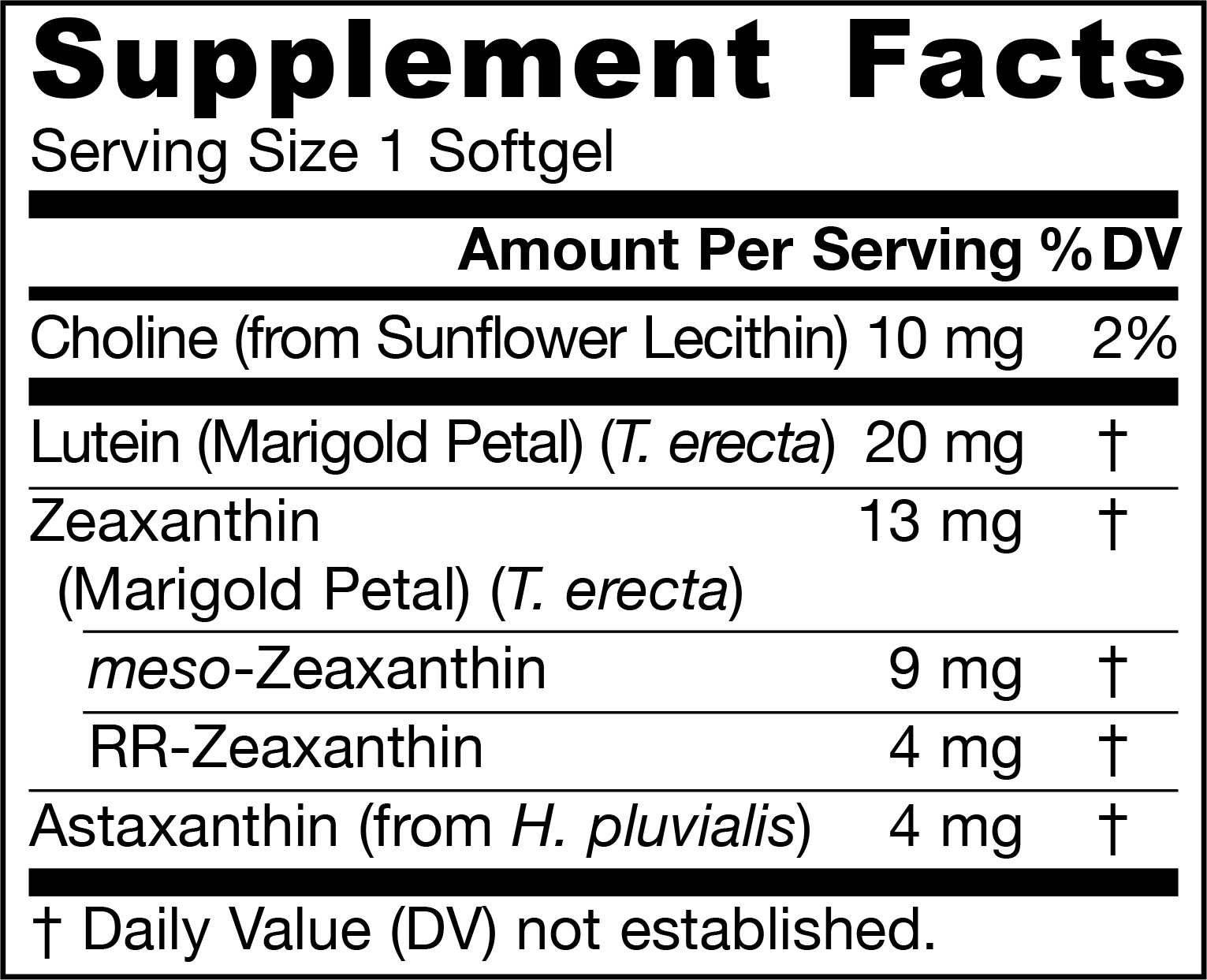 Product Information
60 Softgels
Code: MPF60
Product #: 129077
Reformulation Date: 09/12/2019
Design Change Date: 09/12/2019
Last Update: 12/21/2021
Keep out of the reach of children.