Probiotic Duo
Probiotic Duo Function
Promotes Digestive
and Immune Health
*
What Does Probiotic Duo Do?
Probiotic Duo features two clinically–studied probiotic strains to help promote digestive and immune system health in just two gummies daily!*
Clinically–studied probiotic strains – Bacillus coagulans (MTCC 5856) and Bacillus subtilis (DE111® ) have excellent safety profiles and support commensal bacteria in the intestine.*
Spore–forming probiotics – B. coagulans and B. subtilis are non–competing, tough and generally resistant to gastric acid.
Better for you – non–GMO, gelatin/gluten–free, vegetarian, free of artificial flavors, sweeteners, colors, and preservatives.
Strains Matter ® – clinically–documented strains matter more than high levels of CFUs. Introducing a unique combination of spore–forming probiotic strains with an excellent safety and health–promoting profile.*
Suggested Usage
Take 2 gummies daily or as directed by your qualified healthcare professional.
NOTE: Consult a healthcare professional before using this product if you are trying to conceive, pregnant or lactating, under the age of 18, or have a medical condition; if adverse reactions occur discontinue use.
Other Ingredients
Tapioca syrup, organic cane sugar, water, sunflower oil, pectin, citric acid, potato flour, rice flour, vegetable juice (color), natural flavor, medium chain triglycerides (MCT), sunflower lecithin.
DE111® is a registered trademark of Deerland Probiotics & Enzymes, Inc.
Store in a cool, dry place. Refrigeration not required.
** Contains a minimum of 3 Billion Live Cells through expiration, providing proper handling and storage conditions are followed.
No wheat, gluten, soybeans, dairy, egg, fish/shellfish, or peanuts.
Manufactured in a facility that processes soy, dairy, fish and shellfish ingredients.
*These statements have not been evaluated by the Food and Drug Administration. This product is not intended to diagnose, treat, cure or prevent any disease.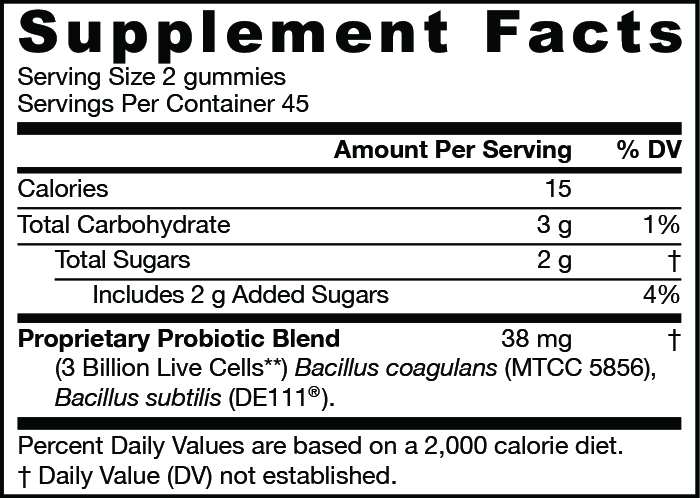 Product Information
90 Gummies
Code: PGUM90
Product #: 103712
Reformulation Date: 11/02/2021
Design Change Date: 11/02/2021
Last Update: 04/14/2022
Keep out of the reach of children.