Probiotic+ Immune
Probiotic+ Immune Function
Promotes Digestive
and Immune Health
*
What Does Probiotic+ Immune Do?
Probiotic+ Immune features two clinically–studied probiotic strains plus a trio of immune–supporting favorites to help promote a healthy digestive system and keep your immune system strong, day in and day out.*
Clinically–studied probiotic strains – Bacillus coagulans (MTCC 5856) and Bacillus subtilis (DE111® ) have excellent safety profiles and support commensal bacteria in the intestine.*
Spore–forming probiotics – B. coagulans and B. subtilis are non–competing, tough and generally resistant to gastric acid.
Immune boosting blend featuring effective levels of Vitamins C & D and Zinc.*
Better for you – non –GMO, gelatin/gluten–free, vegetarian, free of artificial flavors, sweeteners, colors, and preservatives.
Strains Matter ® – clinically–documented strains matter more than high levels of CFUs. Introducing a unique combination of spore–forming probiotic strains with an excellent safety and health–promoting profile.*
Suggested Usage
Take 2 gummies daily or as directed by your qualified healthcare professional.
NOTE: Consult a healthcare professional before using this product if you are trying to conceive, pregnant or lactating, under the age of 18, or have a medical condition; if adverse reactions occur discontinue use.
Other Ingredients
Tapioca syrup, organic cane sugar, water, pectin, medium chain triglycerides (MCT), citric acid, vegetable juice (color), potato flour, natural flavors, sunflower lecithin.
DE111® is a registered trademark of Deerland Probiotics & Enzymes, Inc.
Store in a cool, dry place. Refrigeration not required.
** Contains a minimum of 2 Billion Live Cells through expiration, providing proper handling and storage conditions are followed.
No wheat, gluten, soybeans, dairy, egg, fish/shellfish, or peanuts.
Manufactured in a facility that processes soy, dairy, fish and shellfish ingredients.
*These statements have not been evaluated by the Food and Drug Administration. This product is not intended to diagnose, treat, cure or prevent any disease.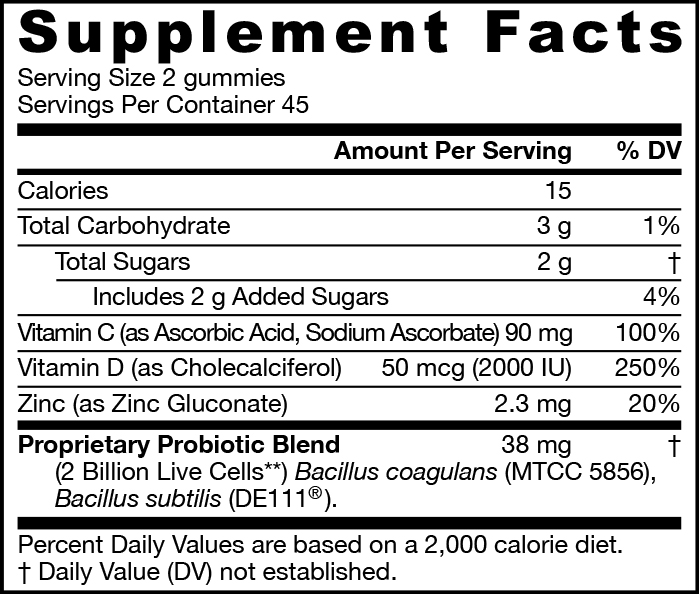 Product Information
90 Gummies
Code: PGUMIMU90
Product #: 103714
Reformulation Date: 11/02/2021
Design Change Date: 11/02/2021
Last Update: 04/14/2022
Keep out of the reach of children.