Glucosamine + Chondroitin + MSM
Provides Glucosamine Sulfate, Chondroitin Sulfate, and MSM plus Vitamin C and Manganese for Nutrient Support of Joint Health*
Glucosamine + Chondroitin + MSM Function
Nutrient Support of Joint Health*

Glucosamine + Chondroitin + MSM Highlights
Joint & Cartilage Precursors
1500 mg Glucosamine Sulfate
Glucosamine (1.5 g) & Chondroitin (1.2 g) Sulfate per Serving
What Does Glucosamine + Chondroitin + MSM Do?
Glucosamine and chondroitin sulfate are fundamental components of hyaluronic acid in joint cartilage and synovial fluid.*
Methylsulfonylmethane (MSM) is an organic source of sulfur, an antioxidant mineral and component of structural body tissues, such as cartilage.*
Vitamin C and manganese support the synthesis of collagen and cartilage.*
Jarrow Formulas® glucosamine sulfate is SODIUM FREE and stabilized with potassium chloride (KCI).
Suggested Usage
Take 4 capsules per day or as directed by your qualified healthcare professional.
NOTE: DO NOT use if allergic to shellfish. Consult a healthcare professional before using this product if you are trying to conceive, pregnant, or lactating, under the age of 18, or have a medical condition; if adverse reactions occur, discontinue use.
Other Ingredients
Capsule (bovine gelatin), magnesium stearate (vegetable source), silicon dioxide and cellulose.
Contains: Crustacean Shellfish (shrimp or crab shell).
No wheat, gluten, soybeans, dairy, egg, fish, or peanuts/tree nuts.
Store in a cool, dry place.
*These statements have not been evaluated by the Food and Drug Administration. This product is not intended to diagnose, treat, cure or prevent any disease.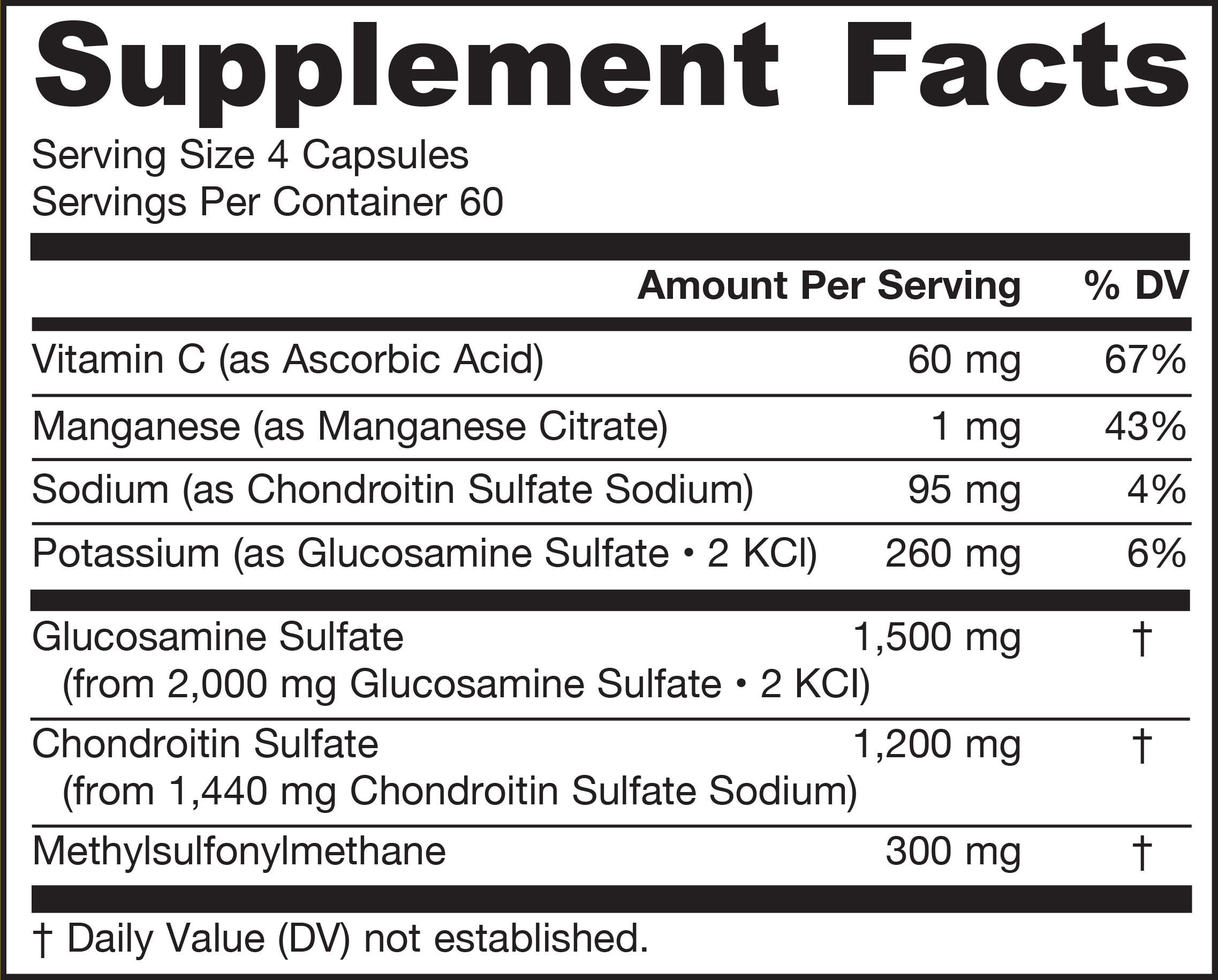 Product Information
240 Capsules
Code: GCM240
Product #: 119022
Reformulation Date:
Design Change Date: 05/08/2013
Last Update: 04/15/2022
Keep out of the reach of children.